45-degree elbow silicone hose
Features:
(1)the range of continuous use temperature: -60 ° C ~ 260 ° C;
(2)soft, arc-resistant, corona-resistant;
(3) can be customized according to customer requirements of various specifications.
(4)harmless non-toxic tasteless
(5)high pressure, environmental protection
Standard color:
Black, red, blue, white, gray, green, transparent (other colors can be produced as required)
Silicone Hose Product Description:
High-Temperature 4-Layer Reinforced Silicone Hose Meets or exceeds the SAEJ20 industry standard, ideal for heavy-duty pressure connections, providing excellent resistance in high-temperature applications. silicone rubber has excellent heat resistance, cold resistance, dielectric, ozone resistance, and resistance to atmospheric aging and other properties.
Silicone Hose Specification
> Polyester-reinforced silicone hoses
working temperature -40 ℃ (-40 ℉ ) to 180 ℃ (356 ℉ )
>Aramid(Nomex) reinforced silicone hoses
working temperature -40 ℃ (-40 ℉ ) to 260 ℃ (500 ℉ )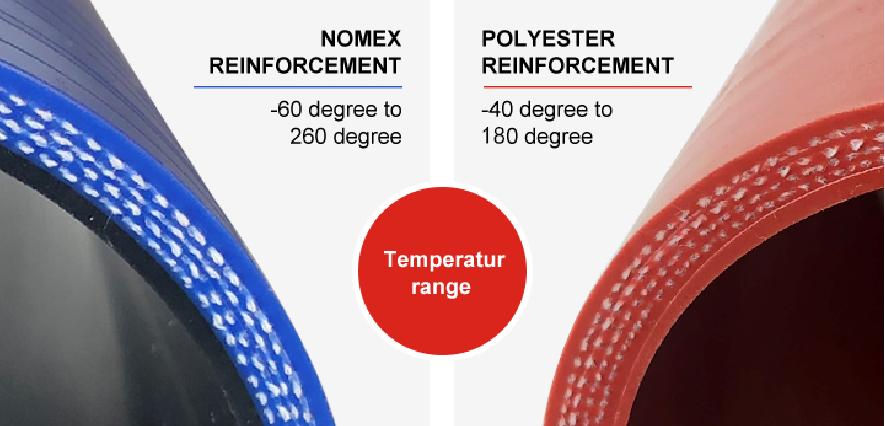 silicone Hose Features :
Hand-crafted
Working Temperature: -60 To +260 Celsius
Excellent Ply Adhesion From The Inner Core To The Outer Layers.
Weather Resistance To Harsh Sunlight, Dry Conditions, And Rain Water.
Bright Gloss Finish.
Working Pressure: 43-130PSI/0.3-0.9MPA
Size Tolerance: +/-0.5MM
Applications
Silicone Straight Coupler Hoses are used by professionals in industries such as high-performance racing vehicles, commercial trucks,s and bus, Marine, agricultural, and off-highway vehicles, turbo, food and beverage, and general manufacturing industries. Application: Cooling connector, Engine Cooling Hose, Intercooler Coupler Pipe, Basic replacement, Custom Turbo, Supercharger chargepiping set up, custom compressor, inlet for turbocharged and supercharged cars, etc.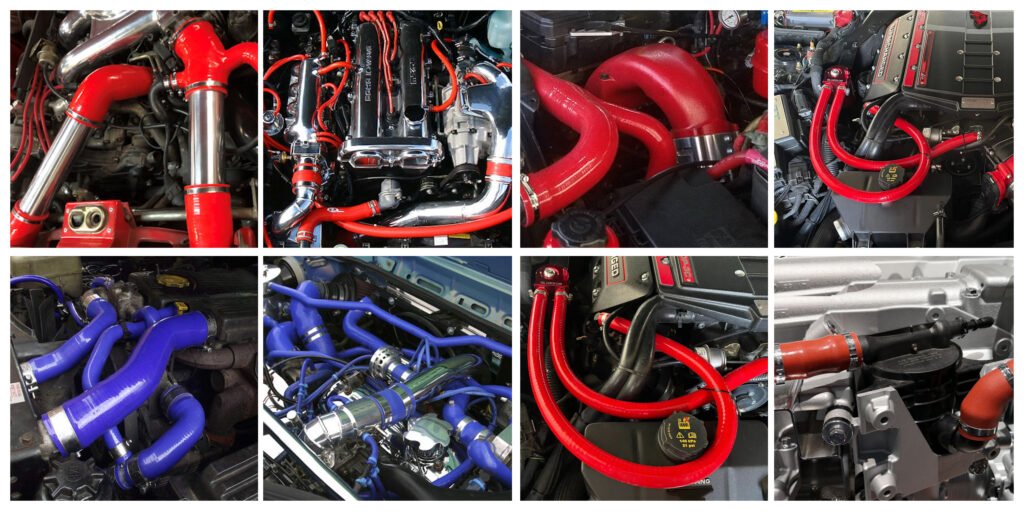 Why choose silicone hose?
1.10 years of production experience, stable delivery
2. Professional product design and development team to meet the individual needs of customers
3. Support OEM/ODM
4. Strict selection of high-quality raw materials, and product quality assurance. Realize 3D printing inspection tooling
5.The product has passed IATF16949, ISO14001:2015 quality inspection and certification
6. Products are exported to more than 70 countries and regions around the world