Custom Silicone Hose
KINGLIN, as an expected silicone hoses manufacturer in China. We are proud to be your preferred supplier of high-quality silicone hoses and tubes.
We have more than ten years of experience in the production of silicone hoses, where we specialize in creating customized silicone hoses tailored to your unique specifications. We understand that off-the-shelf hoses may not always meet your specific needs, so we offer a comprehensive range of customization options to ensure that you get the perfect silicone hose for your application.
We can help you customize radiator hoses, Intercooler hoses, Turbo hoses, special silicone hoses, silicone vacuum hoses, industrial hoses, silicone couplers, truck silicone hoses, etc.
Extensive range of high-quality silicone materials by KINGLIN
We offer an extensive range of high-quality silicone materials, each with its own properties. Whether you require high-temperature resistance, exceptional flexibility, or enhanced chemical resistance, we have the expertise to guide you toward selecting the ideal silicone material for your customized hose.
Polyester-reinforced silicone hoses
working temperature -40 ℃ (-40 ℉ ) to 180 ℃ (356 ℉ )
>Aramid(Nomex) reinforced silicone hoses
working temperature -40 ℃ (-40 ℉ ) to 220 ℃ (428 ℉ )
>Fibre Glass reinforced silicone hoses
working temperature -40 ℃ (-40 ℉ ) to 260 ℃ (500 ℉ )
> Oil and fuel resistant
Flurosilicone or Viton liner silicone hoses
No matter what your needs are, we can meet them
Our experienced team of engineers utilizes advanced CAD software, and cutting-edge technology to design your customized silicone hose. We pay meticulous attention to detail, ensuring that the hose's dimensions, wall thickness, reinforcements (if required), and end connections align perfectly with your application's requirements. We can also provide prototypes or 3D models for your review and approval before moving forward with production.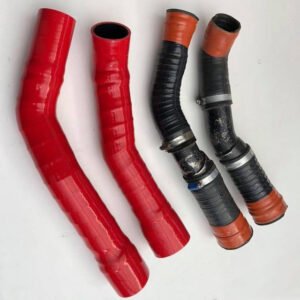 Manufacturing excellence:
We employ the latest manufacturing techniques and equipment to bring your customized hose to life. Our skilled technicians work diligently to create precise molds that accurately replicate the design specifications. Whether through extrusion, injection molding, or other specialized processes, we ensure that each silicone hose is crafted to perfection.
Rigorous quality control:
Our company has passed IATF 16949, and ISO9001 quality system certification. Additionally, an ISO14001 environmental management system certification. At the same time, it has obtained 8 patents. Every customized silicone hose undergoes rigorous quality control measures to ensure it meets or exceeds your expectations. Our comprehensive testing includes checking for dimensional accuracy, performing pressure and temperature tests, and assessing overall durability. By maintaining stringent quality control protocols, we guarantee that your custom hose will perform flawlessly in your application.
Timely delivery:
We understand the importance of meeting deadlines. Once your customized silicone hose has successfully passed our quality checks, we package it securely and deliver it to your doorstep in a timely manner. Our efficient logistics processes ensure that your hose arrives when and where you need it, ready to tackle the demands of your application.
Silicone tubes for medical grade
Silicone rubber hoses are a multi-purpose materials, which is highly praised for its heat resistance and flexibility by our oversea customers. It can be manufactured as a medical grade material, which makes it so popular in the medical industry. In addition, custom silicone hose is highly resistant to weather conditions, ultraviolet-radiation and ozone degradation, etc. And also it is an ideal choice for aerospace and electrical industries.
To avoid gas permeability from silicon hose
About gas sensitive fluids, especially solutions that need to prevent oxidation, anaerobic cell culture, customers have to consider the permeability of the pipeline. At this time, silicone is usually the most breathable material, while thermoplastic materials are often relatively impermeable. Materials with low permeability will help prevent problems associated with fluid exposure to air.
More information about custom silicone hose.
Showing all 5 results