| | |
| --- | --- |
| Brand | Kinglin |
| Material | Silicone |
| Color | Clear/Black/Red… |
| Product Dimensions | 39.36″L x 1.25″W |
30 degree silicone elbow-Polyester Reinforced
30 degree elbow silicone hose, reinforced by knitted polyester fabric of 3 to 4 plies. It is popular for Automotive and marine; industries for coolant systems and air intake systems; HVAC systems for air ducts and ventilation;
Food and beverage industries for conveying fluids and ingredients; Pharmaceutical and medical industries for sanitary applications. Its high-temperature resistance, high flexibility, and other characteristics make it have very important applications in many industries.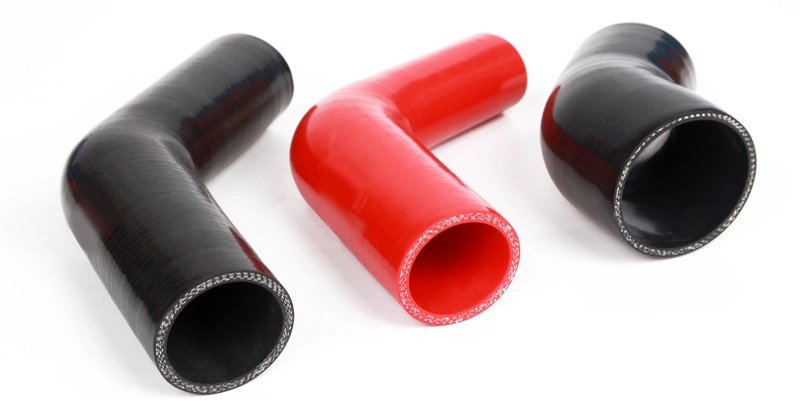 Technical Specification
Working temperature: -50 °C to +170 °C.
Reinforcement: Polyester fabric.
Reinforced plies: 3 to 4 plies.
Colors: black, red, blue.
When incorporating the silicone elbows, consider the followings:
Size and compatibility with existing piping systems.
Temperature and pressure requirements of the application.
Environmental factors such as exposure to chemicals or UV radiation.
Compliance with industry standards and regulations.
Product Specification:
Product
elbow silicone hose
Material
Silicone rubber + Fabric reinforcement
Reinforcement
Polyester cloth or Aramid cloth
Temperature
-60 ° C ~ 260 ° C
Colors
transparent, white, black, red, yellow, green (can also be required to produce)
Pressure
0.3Mpa~1.2Mpa
Shape
Straight hose
45/90/135/180-degree elbow hose
hump hose
reducer hose
silicone hose kits
L/Y/S/Z shape or any customized shape
Inner Diameter
6mm ~ 152mm or according to the customer's requirement
OEM/ODM
Available
Antibiosis and anti-corrosion property
good
Hardness
35~80 shore A
Key Features and Benefits of 30-Degree Silicone Elbows
Smooth Flow Characteristics:
30-degree silicone elbows feature smooth internal surfaces, minimizing pressure drop and turbulence within the piping system. This smooth flow characteristic helps optimize fluid flow, reduce energy consumption, and enhance overall system efficiency.
Leak-Free Performance:
Silicone elbows are known for their excellent sealing properties. The flexible yet resilient nature of silicone ensures a secure and leak-free connection. This reliability is crucial in applications where maintaining a tight seal is essential to prevent leaks and system inefficiencies.