Wholesale Silicone Vacuum Hose Kit China Supplier
| | |
| --- | --- |
| Product | Silicone Vacuum Hose Kit |
| Material | Silicone rubber + Fabric reinforcement |
| Working Temperatures | -60 ° C ~ 260 ° C |
| OEM/ODM | Available |
Top silicone vacuum hose kit manufacturer, a factory specialized in manufacturing silicone hose for more than 10 years, wholesale silicone hose, silicone vacuum hose kit,truck silicone hose, extrusion silicone hose, custom air intake silicone hose, and food-grade silicone tubes, rubber hose,if you are interested in our products, please contact me for quotations and free samples
Silicone Vacuum Hose Kit
This hose, with an inner diameter of only 3 mm, provides a confined passageway for transporting air and gases at reduced flow rates. The small inside diameter makes it useful for applications that require precise vacuum control due to its ability to significantly restrict airflow. Compared to hoses with larger inside diameters, this 3 mm silicone vacuum hose can produce higher vacuum levels and finer control of vacuum pressure for sensitive applications.
Due to its notably low porosity, this silicone vacuum hose delivers virtually no air leakage over time. The negligible permeability helps maintain a stable vacuum level within closed systems by minimizing the loss of suction. The silicone rubber construction imbues the tubing with an almost impermeable design that outperforms most alternatives in maintaining the desired vacuum pressure. Compared to rubber vacuum hose, the reduced permeability of silicone makes it an ideal choice for applications that require maintaining vacuum levels for extended periods of time without significant loss of pressure. The impermeable silicone hose helps keep vacuum pressure stable and maximize vacuum system efficiency.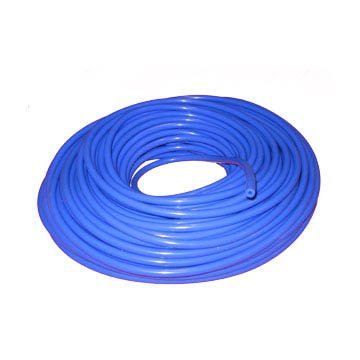 Silicone Vacuum Hose Kit Features:
(1) Continuous use temperature range: -60 °C to 260 °C
(2) Soft, flexible, arc and corona resistant
(3) Can be customized to meet various specification requirements
(4) Non-toxic, tasteless and harmless
(5) Suitable for high pressure and environmentally friendly applications
(6) Working pressure range: 43-130PSI/0.3-0.9MPA
(7) Size tolerance: +/-0.5MM
Standard color: Black, red, blue, white, gray, green, transparent (other colors can be produced as required)
Key benefits of this silicone hose include:
Extreme temperature resistance
Due to its wide working temperature range from -60 to 260 degrees Celsius, the hose can withstand high heat and cold temperatures, making it suitable for environments with temperature fluctuations and extremes.
The hose is resistant to arcing and corona discharge, allowing it to be used in applications with high voltages. Flexible design The soft and flexible silicone rubber construction allows the hose to bend and conform to various shapes without kinking or restricting vacuum flow.
The non-toxic silicone materials are considered food grade safe, suitable for applications involving contact with consumables.
The hose can handle high pressures and is designed for eco-friendly applications, expanding its compatibility and use cases.
Customizable specifications
The hose is available in various configurations to meet custom specification requirements upon request. Precise tolerances The hose is manufactured within a tight size tolerance of ±0.5 mm to ensure consistent dimensions and reliable fittings.
Silicone Vacuum Hose Kit Product Specification:
Our Product Advantages Are As Below :
1. custom Logo service.
2. Custom size. ( ID, layer, thickness, length )
3. All colors are available.
4. Strict selection of high-quality raw materials, and product quality assurance. Realize 3D printing inspection tooling
5.The product has passed IATF16949, ISO14001:2015 quality inspection and certification
Product Application:
Silicone hose It is suitable for use in performance motors and vehicles, marine wet-exhaust systems, commercial truck and bus induction and cooling systems, agriculture and off-highway vehicles, and turbo-diesel vehicles. The hose is made from silicone,which provides excellent resistance to high temperatures,ozone, and UV rays.