90 Degree Elbow Silicone Reducer Hoses
Our 90-degree elbow reducers enable you to join 2 outlets of different diameters, while also creating a bend in the pipe work.
The silicone Elbow Reducer Hose features a 4-ply reinforced high-temperature material, which meets or exceeds SAEJ20 Standards.
Silicone Hose Application
Elbow Silicon Hoses are used by professionals in high-performance racing vehicles, commercial trucks and buses, Marine, agricultural and off-highway vehicles, turbo diesel, food and beverage, and general manufacturing industries.
We increase the number of plays and wall thickness of our 90-degree reducers as the diameter increases, this is because we want all our range capable of carrying fluid and air at very high pressures.
So if you're building a racing vehicle, adding turbochargers or superchargers, our silicone hose is the way to go.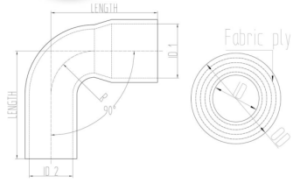 silicone hose Features
90-Degree Elbow Silicone hose is made of high-quality polyester fiber and high-temperature silicone rubber,
designed for extreme temperatures and various pressure ranges that require high-performance levels.
It is highly resistant to oxygen, ozone, water, sunlight, and UV radiation and offers excellent compression resistance.
The hose has high electrical insulation qualities and is also very reliable working in extremely low and extremely high temperatures.
Technical Specification
1.Temperature Range:- 65 deg. F to + 350 deg.
2. Reinforced Layer: 3-5-ply Polyester Reinforced/customization
3. Color: Black / Blue/Red/customization
4. Other leg lengths and constructions are available to order, please get in touch with us to detail your requirements